You do not have to spend a fortune to buy a good looking set of kitchen appliances. Due to fierce competition among large appliance companies, it is probably less expensive than you think.
In this article, we will introduce the best brands to consider and describe the pros and cons of each one. Then we will briefly compare affordable luxury versus luxury kitchen appliances.
The best affordable luxury appliance brands are:
Jenn-Air
Samsung
Bosch Benchmark
GE Cafe
Fisher & Paykel
What is an Affordable Luxury Brand?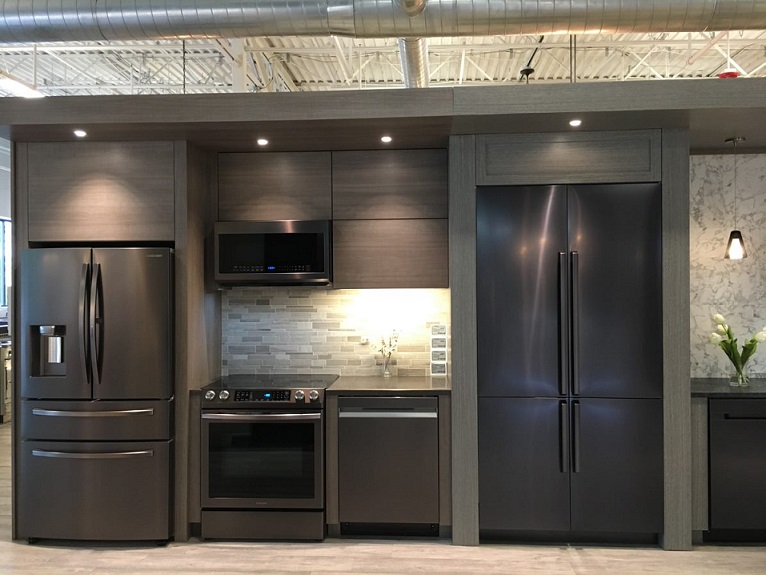 The affordable luxury appliance market spans the gap between your basic four-piece kitchen package and ultra-high-end professional-style products.
Many appliance buyers will purchase products from the affordable luxury market. For this reason, there are many brands to choose from and many products and features to sort through.
This article will address the top five affordable luxury brands of 2019, their best features, and their shortcomings.
Then you will see reliability stats by brand and product as well based on 34,687 of our service calls last year.
What Does an Affordable Luxury Kitchen Package Include?
You should expect a counter depth French door refrigerator, a mid to high-level slide-in range (so you can see your backsplashes), a quiet dishwasher and over the range microwave or microwave convection.
There are different choices within each category. You can also buy a wall oven and cooktop instead of a range for more money.
The 5 Best Affordable Luxury Appliance Brands
Honorable Mention: LG/SKS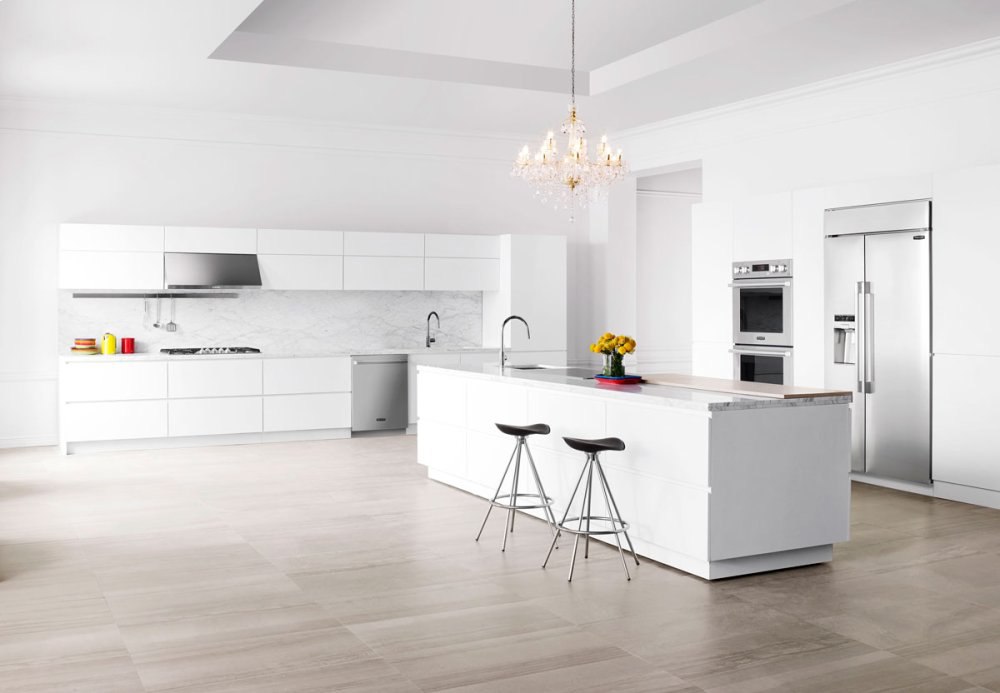 LG and Signature Kitchen Suite (SKS) are new to the list. LG, a South Korean multinational electronics company, has focused on Wi-Fi capability for its appliance lines.
As an affordable luxury line, it is a bit limited. However, 1-3 years from now, LG/SKS could be among the top three appliance brands.
SKS, a new appliance series made by LG, emphasizes on design and is especially attractive with their titanium finish.
Pros: The range offers Wi-Fi and the only pure gas convection range available other than BlueStar.
Cons: Both lines only offer a few cooking products and tend to be more expensive.
5. Fisher & Paykel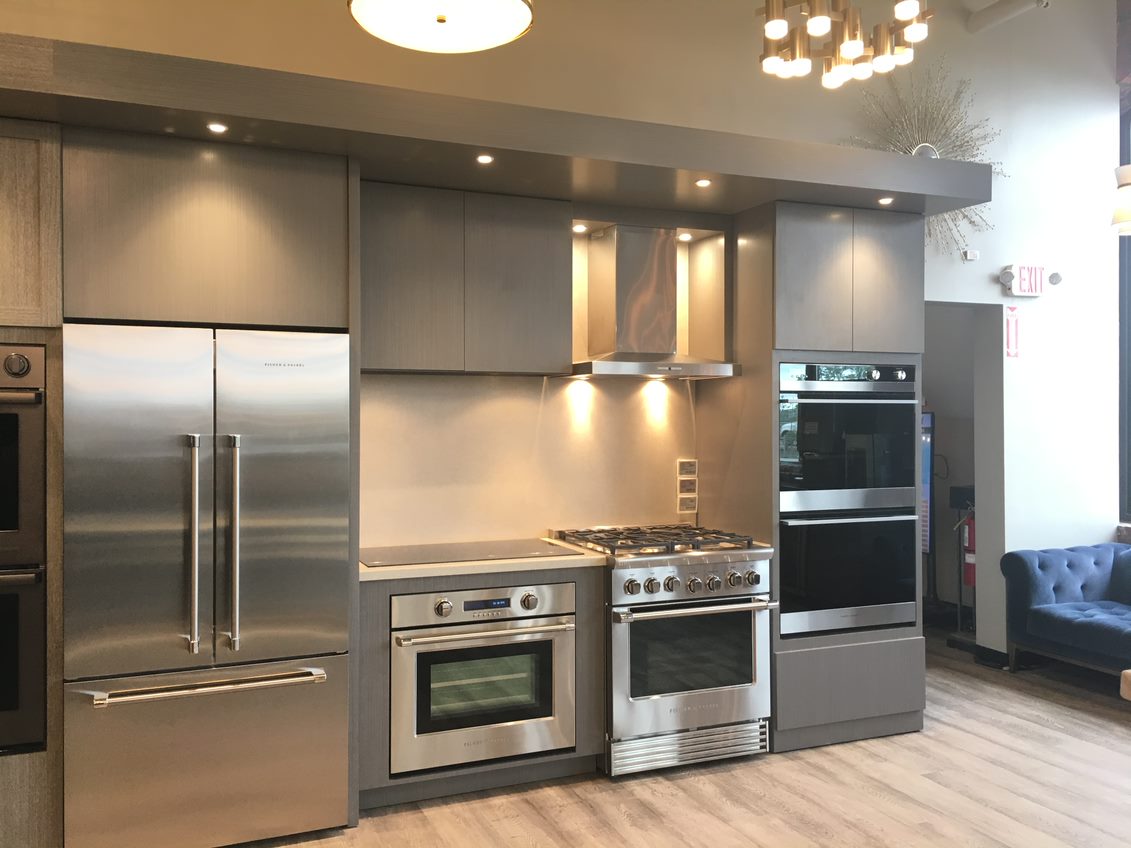 I never thought I would ever mention this company. However, Fisher & Paykel was bought by the Chinese company, Haier, and introduced more reliable, highly styled products at a good value.
You can also buy pro looking ranges for far less money.
It is the best of what I call the "non-pro" pro-looking ranges, meaning they look like a pro range just without the  BTU output and the cost. That group would include Smeg, Bertazzoni, and Ilve.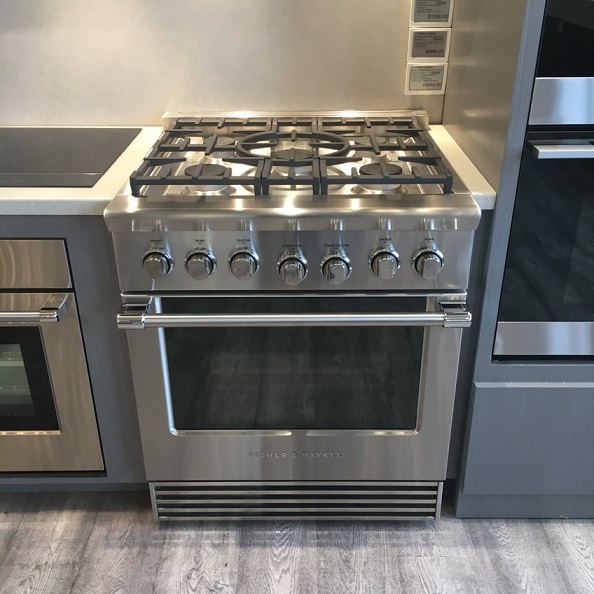 Fisher & Paykel Professional Range
You can also buy the double drawer dishwasher and some unique refrigerators. Their integrated French door is $3-7,000 less than any other on the market.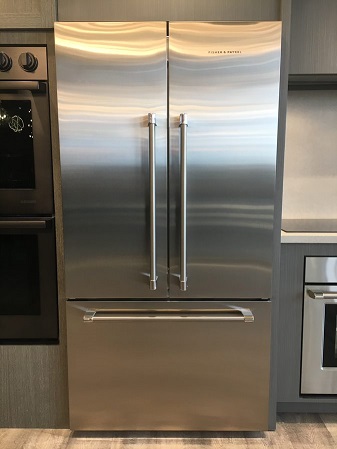 Fisher & Paykel French Door Refrigerator 
Pros: Pro looking ranges, unique styles, colors, and integrated and counter depth refrigerators.
Cons: More expensive than the other affordable luxury brands with fewer models. No Wi-Fi as of yet (which is surprising).
4. GE Cafe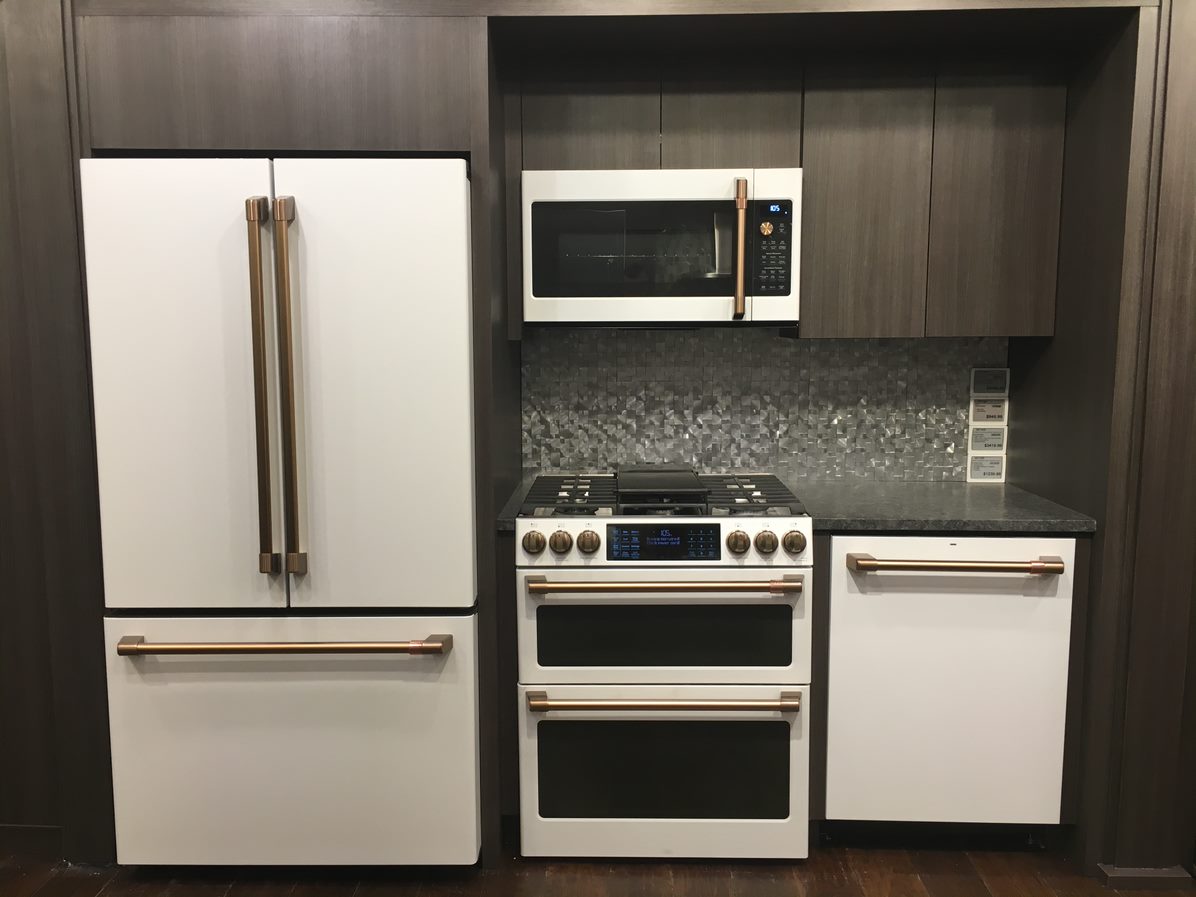 GE is also new to this list. GE Cafe is their best affordable luxury line. It has different color options and different handle style, so there is limited customization.
They may have also figured out a true alternative to stainless – their high fashion white. They also have a few other finishes worth considering.
They have exceptional gas and induction double oven ranges including a 6 burner 30-inch range (I wonder how many pots it can accommodate).
Cafe refrigeration includes Keurig coffee as an option. Their whole line is Wi-Fi as well.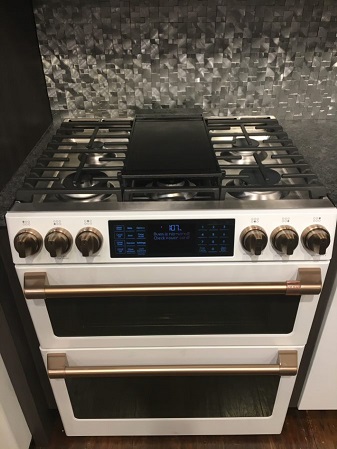 GE Cafe Slide-In Range
Pros: Customization that won't make you crazy, great ranges, good color choices, Wi-Fi.
Cons: Dishwashers, brand perception to some extent (which will change).
3. Bosch Benchmark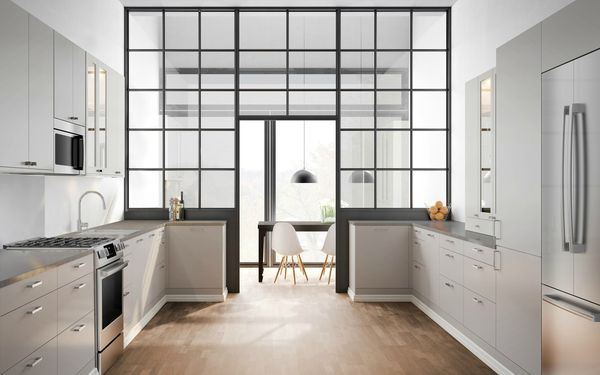 Today, Bosch is considered one of the highest-end affordable luxury brands out there. They are part of the BSH Corporation along with Thermador and Gaggenau.
In the past, Bosch products spanned the value range, today Bosch offers a product comparable to the other affordable luxury brands on this list.
Bosch has attractive styling. For all of you reading this outside Boston, Bosch is the best company when there are issues.
Pros: Bosch Benchmark is the upper echelon of Bosch. Their gas and electric slide-in ranges are excellent as are their wall ovens and cooktops.
Cons: This is a company with very limited refrigerator models – two – and 3 ranges. They should be focusing on apps and Wi-Fi compatibility to compete with Samsung, GE, and LG. This will matter in the near future.
They also need to make refrigeration a priority as they outsource their two models. Later in 2019, there will finally be Bosch built refrigerators.
2. Samsung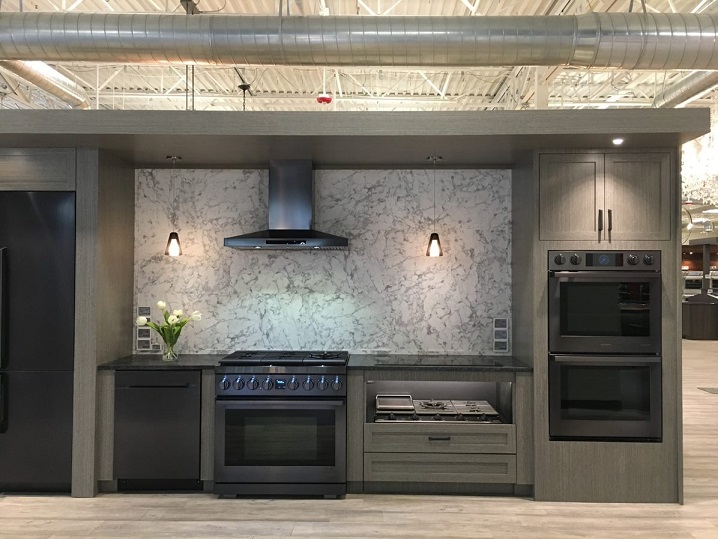 Samsung is a huge South Korean company best known for manufacturing electronics and televisions. Their claim to fame was rooted initially in attractive and affordable refrigeration and laundry.
Today, Samsung is the number 1 sold brand in the U.S. Mostly because their refrigeration is so well conceived with tons of models from French Doors to double drawers and 4-door refrigerators.
Their cooking is surprisingly good, well styled and priced in electric, gas, and induction. In fact, it may be the best value on the list. Their dishwashers are more reliable than Mieles.
Pros: Samsung makes some of the most advanced freestanding refrigeration. The 4-door flex refrigeration system is arguably the most versatile on the market.
The Family Hub refrigerator is also unique. It looks like a giant Samsung tablet on the front of your refrigerator.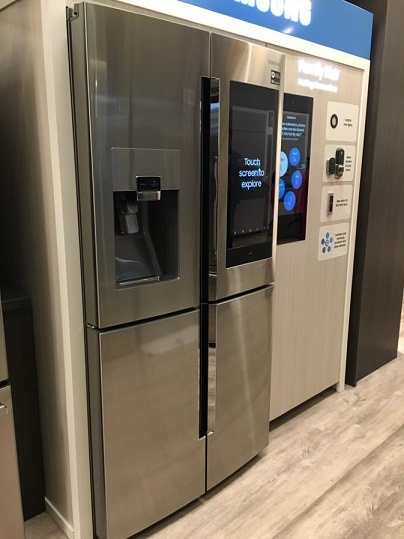 Samsung Family Hub Refrigerator
Their cooking has become competitive with their Blue Light Wi-Fi induction cooktop and their Flex Duo oven, a range that can be separated into two separate oven sections operating at two slightly different temperatures with reduced flavor transfer.